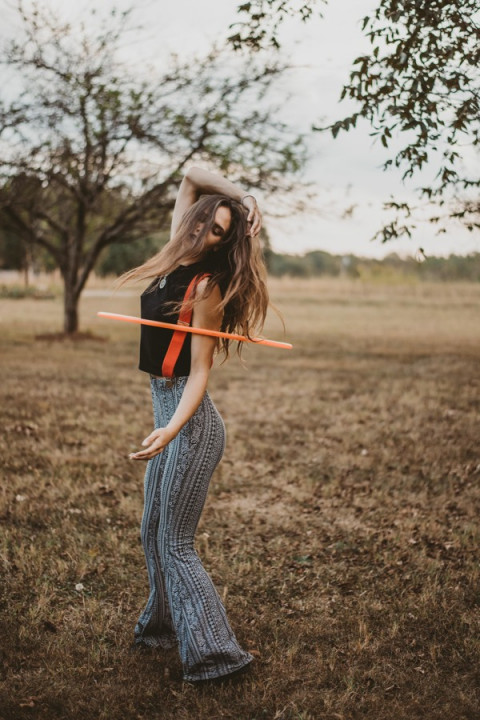 I discovered yoga in 2018, after a friend was diagnosed with preeclampsia and her doctor had recommended yoga. Initially we went in search of relief for her, but I too was greatly impacted by this healing practice. I had recently lost my grandmother and was unaware how much it was weighing on me. It was in this first class that I experienced great healing. I instantly immersed myself in everything Yoga. After a year of daily practice, self study, and dedication, I knew this was the path that I was meant to take.
The first teacher training that I attended was with Mr. and Mrs. Totman. After meeting one of their former graduates, I was so impressed with her skill and knowledge that I was drawn to their school. After taking a few classes with them, I knew that I needed to attend their teacher training. This was my first step towards making yoga my career, not just my hobby. I completed my 200 hour yoga alliance certification in 2018. Since then, I have taught over 200 hours in the Statesville area and continue my training as I work towards my 300 hour certification with Victoria Martinez.
For me, yoga is so much more than asana. So, in my classes I focus on recovery, through self-love, mindfulness, and community. When I found yoga, I was suppressing my grief in a way that I was not allowing myself to process. The movement with breath allowed me to slow my mind and truly be in the moment. The teachings of Yoga, reignited the higher energies within me, that even I didn't understand. Book after book, class after class, I could feel the healing. We're all recovering from something and I want to hold space for others to experience that healing.
Under stress you find yourself with poor, or lack of, coping mechanisms, but you are ready to take the steps towards learning new ones?
​
Are you or someone you love in the process of recovering from something and are seeking a supportive and nurturing space?
​
Have you experieced trauma that has lead to poor self image and need a practice that can remind you of just how beautiful you really are?
Specialties
Beginner's Yoga
Breathwork And Relaxation
Candle Light Yoga
Certified Yoga Teacher
Chakra Balancing
Chanting
Family Yoga
Gentle & Restorative Yoga Therapy
Group Classes
Guided Meditation Classes
Health & Wellness
Hula Hoop Dance Classes
Meditative Asana
Mindfulness
On-locaiton Corporate Wellness Events & Programs
PersonalIzed Classes
Prana Vinyasa Flow
Pranayama Yoga
Prenatal Yoga Classes
Relaxation and Vitality
Stress & Anxiety Relief
Teen Yoga Classes & Camps
Vinyasa Yoga Classes
Women's Health
Yin Yoga
Yoga Alliance Registered Teacher(s)
Yoga for Core & Strength Training
Yoga For Flexibility
Yoga Workshops