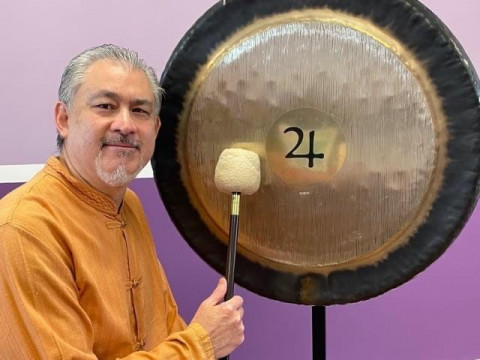 Dean Telano, Ph.D., E-RYT 500, RCYT, RPYT, KKRGM-24, Author of "Kind Karma Worldwide™: Inspirational Quotes & Empowering Thoughts for Raising the Vibration of Humanity" and "Kind Karma® Kids Yoga: Awaken Your Inner Shaman", Founder of Kind Karma Worldwide™ – Nonprofit Organization, Creator of Kind Karma® Yoga & Awaken Qigong
Dean Telano is a former adjunct professor, author, exercise physiologist, meditation coach and Gong Master. His MS degree in exercise physiology paved the way of extensive involvement in fitness, nutrition, yoga, meditation, sound healing, and energy therapy for 40 years. Dean is co-owner of Kind Karma Yoga & Holistic Center where he contributes his wealth of knowledge by teaching and leading courses, events, and classes that emphasize wellness as a holistic integration of the physical, mental, and spiritual well-being. As well, he travels to give lectures, workshops, and events to support his humanitarian nonprofit organization – Kind Karma Worldwide™.
Dean has been a Registered Yoga Teacher with Yoga Alliance since 2001. His yoga training and study includes Kind Karma® Yoga, Rahini Yoga®, Hatha, Kundalini, Vinyasa, Power, Raja, Kundalini Maha, Tibetan, Naam, Yin, MEM Gong Yoga, Restorative and Therapeutic Yoga, and Children's Yoga. Additionally, he has extensive years of meditation study and training in Shamatha, Zhine, Mantra, Mindfulness, Dzogchen, Zen & Qigong Meditation. Dean offers trainings to the public in Kind Karma® Yoga, Awaken with Meditation, Gong & Sound, Awaken Qigong, Crystal Healing, and various Reiki Healing Courses.
Specialties
Author
Beginner's Yoga
Breathwork And Relaxation
Candle Light Yoga
Certified Yoga Teacher
Chair Yoga
Chakra Balancing
Children's Yoga
Family Yoga
Gentle / Chair Yoga for Seniors
Gentle & Restorative Yoga Therapy
Gift Shop
Group Classes
Guided Meditation Classes
Hatha Yoga
Health & Wellness
Interdisciplinary Yoga
Kundalini Classes
Meditative Asana
Mindfulness
On-locaiton Corporate Wellness Events & Programs
Partner Yoga
PersonalIzed Classes
Power Yoga
Prana Vinyasa Flow
Pranayama Yoga
Prenatal Yoga Classes
Reiki Certification
Reiki Healing Sessions
Relaxation and Vitality
Sound Healing Therapy, Qigong
Stress & Anxiety Relief
Teen Yoga Classes & Camps
Traditional Hatha Yoga Studio
Vinyasa Yoga Classes
Women's Health
Yin Yoga
Yoga Alliance Registered Teacher(s)
Yoga for Core & Strength Training
Yoga For Flexibility
Yoga Nidra Sessions
Yoga Teacher Training
Yoga Workshops