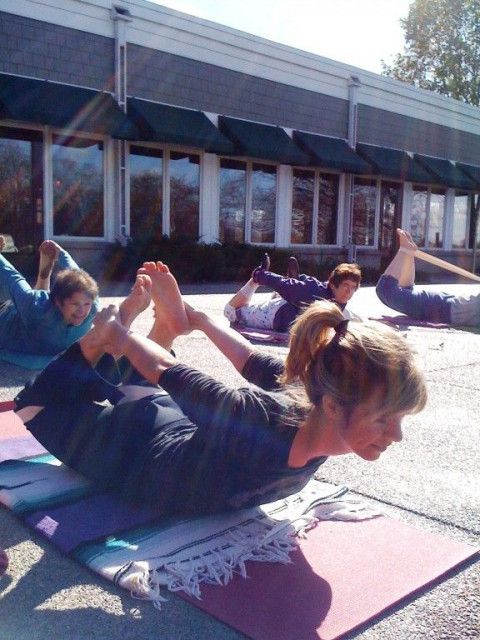 YogaHotDish yoga classes are comprehensive and present yoga as "meditation in motion." Classes are 75-90 minutes, include restorative and therapeutic yoga, yin yoga, pilates-inspired core, inversion, standing and balancing poses, as well as a full length yoga nidra. Students are coached to perform the practice with ujjayi breath and other pranayama. Instructor 12 years experience, certified in Kripalu (MA) residential training. Began her practice while living in Asia. No religious elements, just quiet. No music, no mirrors, just yoga! Classes held in North Metro in venues w/ views, outdoor spaces: White Bear Center for the Arts, North Oaks, UMN, and City of Falcon Heights. Tired of being lost-in-the-back of "group exercise" classes marketed as yoga? SHOW UP and TRY A CLASS $10.
Specialties
Beginner's Yoga
Breathwork And Relaxation
Certified Yoga Teacher
Comprehesive Introductory Yoga
Confidence Building
Corporate And Private Off Site Classes
Deep Healing Relaxation
Finding Your Practice..
Fitness
Forrest Yoga
Friendly-Environment
Gentle & Restorative Yoga Therapy
Group Classes
Hatha Yoga
Health & Wellness
Interdisciplinary Yoga
Kripalu Yoga
Meditation-In-Motion
Meditative Asana
Mindfulness
On-locaiton Corporate Wellness Events & Programs
Personal Training Available
PersonalIzed Classes
Prana Vinyasa Flow
Pranayama Yoga
Raja Yoga
Relaxation and Vitality
Restorative Yoga
Retreats
Sivananda Yoga
Stress & Anxiety Relief
Therapeutic Yoga
Women's Health
Yin Yoga
Yoga Alliance Registered Teacher(s)
Yoga for Core & Strength Training
Yoga For Depression
Yoga For Flexibility
Yoga Introduction
Yoga Nidra Sessions
Yoga Parties
Yoga Retreats
Yoga Workshops