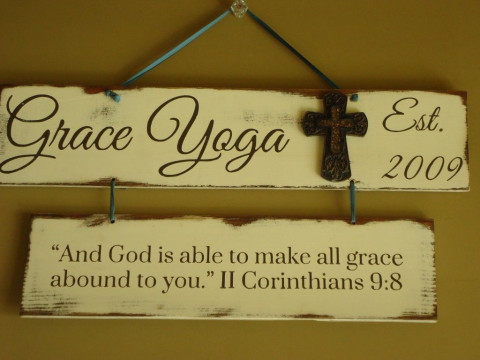 Grace Yoga in Willis, is a few minutes' easy drive from Lake Conroe, greater Conroe and all of Willis. We offer beginner and intermediate classes in a serene, wooded setting, with an emphasis on basic alignment and breathing techniques. Students are given individual attention at their level of instruction.
NOW OFFERING 9 CLASSES WEEKLY.
Specialties
Beginner's Yoga
Breathwork And Relaxation
Certified Yoga Teacher
Christian Yoga Classes
Comprehesive Introductory Yoga
Fitness
Gentle & Restorative Yoga Therapy
Gentle Flow Sequence
Guided Meditation Classes
Hatha Yoga
Health & Wellness
Interdisciplinary Yoga
Meditative Asana
Mindfulness
New Restorative Class
Postpartum Yoga
Pranayama Yoga
Relaxation and Vitality
Restorative Yoga
Stress & Anxiety Relief
Traditional Hatha Yoga Studio
Vinyasa Yoga Classes
Watch For New Class Times!!
Yin Yoga
Yoga Alliance Registered Teacher(s)
Yoga Books, Clothing & Equipment for Sale
Yoga for Core & Strength Training
Yoga For Flexibility
Yoga Introduction