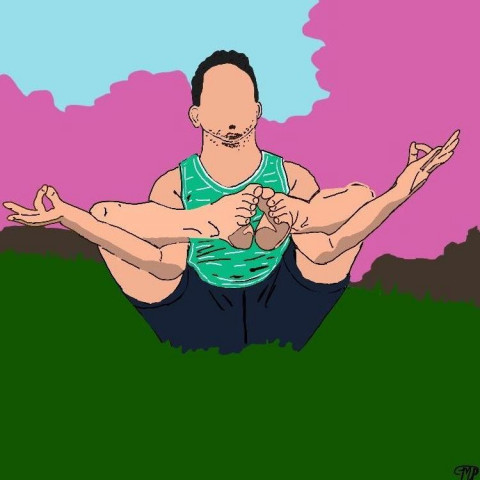 Travis Kendrick is a Yoga Alliance certified RYT-500 yoga instructor teaching Vinyasa Flow, Slow Flow, and Hatha Interdisciplinary yoga, and also specializing in private and corporate yoga in Pittsfield, MA and the surrounding areas.
Travis has a passion for self-expression through movement. He earned his Master of Fine Arts in Directing from the University of California - Irvine and Bachelor of Fine Arts in Musical Theatre from Point Park University's Conservatory of Performing Arts, and enjoys incorporating his theatre and dance background into the classes he teaches.
Travis likes to think of the yoga practice as a moving meditation - an opportunity to "dance" through the physical postures, exploring how movement translates internally by using the breath as a channel between the physical body and mind.
A Yoga Alliance certified instructor, he completed his Advanced Teacher Training with Frog Lotus Yoga International in Koh Samui, Thailand (studying under Vidya Heisel and Jennifer Yarro), and with Yoga Vida's Advanced Teacher Mentorship Program (studying under senior teacher Lindsay Hilscher). He completed his 200-hr yoga teacher training in 2010 with Frog Lotus Yoga, studying under Jennifer Yarro. He returned to Frog Lotus Yoga to be one of the lead teachers, assisting Jennifer Yarro with the Frog Lotus 200-hr certification. Travis has been a guest instructor for several yoga trainings as well, teaching workshops on finding your teacher's voice, sequencing, improvisation, and hands-on assists.
His comprehensive 200-hour and advanced teacher training at Frog Lotus Yoga included hands-on assisting work, meditation, chanting, breath work, proper sequencing, utilizing props, Sanskrit, anatomy, and yoga philosophy. He has taught in New York City at Yoga Vida, Yoga Union, and Stanton Street Yoga; for Frog Lotus Yoga in North Adams, MA; in Clarksville, TN at the Roxy Regional Theatre, Natalie's Dance Network, and Radiant Yoga; in Roanoke/Blacksburg for Uttara Yoga and In-Balance Yoga; as well as private yoga sessions upon request. He also teaches virtual yoga classes each week.
For more details or to contact Travis, please visit his website: www.traviskendrick.com
"The only way to find your balance, is to lose it."
Specialties
Beach Yoga
Beginner's Yoga
Bikram Hot Yoga
Breathwork And Relaxation
Candle Light Yoga
Certified Yoga Teacher
Chair Yoga
Chanting
Children's Yoga
Comprehesive Introductory Yoga
Confidence Building
Corporate And Private Off Site Classes
Donation Based Yoga Classes.
Energy Healing
Energy Work
Family Yoga
Gentle / Chair Yoga for Seniors
Gentle & Restorative Yoga Therapy
Gentle Flow Sequence
Group Classes
Guided Meditation Classes
Hatha Yoga
Health & Wellness
Heart Centered
Hot Vinyasa Flow
Interdisciplinary Yoga
Meditative Asana
Mindfulness
Multiple Locations
Music
PersonalIzed Classes
Power Yoga
Pranayama Yoga
Reiki (universal Energy Healing Modality): Certified Master Reik
Reiki Certification
Reiki Healing Sessions
Relaxation and Vitality
Restorative Yoga
Stress & Anxiety Relief
Teen Yoga Classes & Camps
Theatre And Dance Background
Traditional Hatha Yoga Studio
Vinyasa And Power
Vinyasa Yoga & Power Flow Yoga
Vinyasa Yoga Classes
Yoga Alliance Registered Teacher(s)
Yoga for Core & Strength Training
Yoga For Flexibility
Yoga For Men
Yoga Nidra Sessions
Yoga Workshops