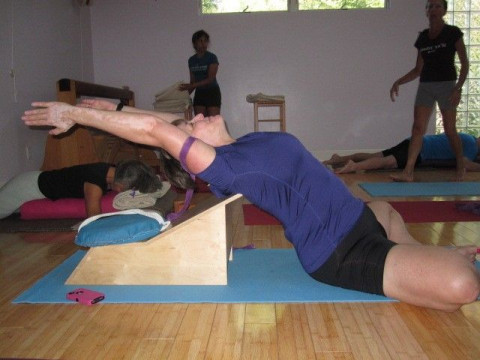 Certified Intermediate Junior I Iyengar Yoga Teacher, Lisa Waas is an experienced Iyengar Yoga teacher with a skilled eye and 1000's of hours of training, she has been an Iyengar Yoga student since 2001. Community Yoga is boutique yoga school located in downtown Fernandina Beach, FL on Amelia Island. All props are supplied. We have the first yoga wall in Northeast Florida. Yoga for everybody and every body.
Specialties
Beginner's Yoga
Breathwork And Relaxation
Certified Yoga Teacher
Chair Yoga
Community Service
Comprehesive Introductory Yoga
Deep Healing Relaxation
Family Yoga
Finding Your Practice..
Friendly-Environment
Gentle / Chair Yoga for Seniors
Gentle & Restorative Yoga Therapy
Group Classes
Hatha Yoga
Health & Wellness
Iyengar Yoga
Mindfulness
Personal Training Available
PersonalIzed Classes
Plus-size Yoga
Postpartum Yoga
Pranayama Yoga
Relaxation and Vitality
Restorative Yoga
Rope-based Yoga
Stress & Anxiety Relief
Therapeutic Yoga
Traditional Hatha Yoga Studio
Visiting Instructor Workshops
Women's Health
Yoga Books, Clothing & Equipment for Sale
Yoga For Athletes
Yoga For Depression
Yoga For Flexibility
Yoga Introduction
Yoga Sutra Study
Yoga Workshops