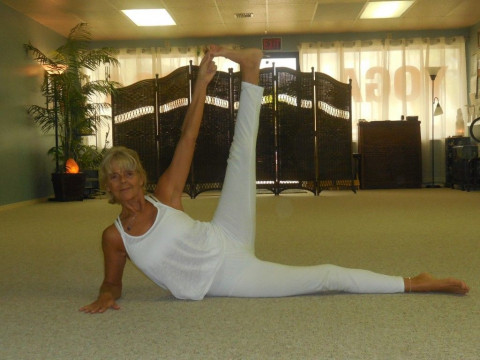 Englewood Yoga Center, Loving Light Yoga. We offer a variety of yoga classes for the very beginner to the more seasoned yogi. Hatha Yoga for Well Being Level 1 & 2, Infused Yoga for Strength, Yoga/Pilates Infused, Chair Get Fit Where You Sit Yoga, Yin Yoga, Restorative Yoga and Yoga Nidra with Crystal Bowls Sound Healing for all ages and abilities.
Englewood Beach Gentle Yoga for Every Body offered 7 days a week, all year, holidays included. Beach Yoga is a free will donation class.
At Loving Light Yoga, one belief guides everything we do: Yoga is for all. It's not exclusive. Not just for the flexible. Yoga is a practice that meets you exactly where you are to nourish body, mind, and soul. Using years of experience and unconditional love and understanding, husband-and-wife duo Lata and Robert teach yoga for all levels and abilities. With both studio and beach classes ranging from vinyasa to guided sound meditation, Loving Light Yoga is the open and accepting environment where everyone is welcome -- the peaceful place where you can be yourself, relax, and focus on becoming a healthier, happier you.
Specialties
Aerial Yoga
Beach Yoga
Beginner's Yoga
Breathwork And Relaxation
Candle Light Yoga
Certified Yoga Teacher
Chair Yoga
Chakra Balancing
Chakra Classes
Chakra Energy Yoga Therapy
Comprehesive Introductory Yoga
Crystal Bowls
Crystal Bowls Sound Healing Concerts
Crystal Energy Work
Deep Healing Relaxation
Donation Based Yoga Classes.
Energy Healing
Essential Oils
Family Owned With Certified Experience Teachers
Foot Reflexology
Gentle / Chair Yoga for Seniors
Gentle & Restorative Yoga Therapy
Gentle Flow Sequence
Gift Shop
Group Classes
Guided Meditation Classes
Hatha Yoga
Health & Wellness
Heart Centered
Kripalu Yoga
Meditation
Meditative Asana
Mindfulness
Nutrition
Partner Yoga
Pilates
Pilates Classes
Prenatal Yoga Classes
Private Reiki Sessions
Reflexology
Reiki Healing Sessions
Relaxation and Vitality
Restorative Yoga
Sound Healing
Stress & Anxiety Relief
Therapeutic Yoga
Traditional Hatha Yoga Studio
Vinyasa Yoga Classes
Yin Yoga
Yoga
Yoga Alliance Registered Teacher(s)
Yoga for Core & Strength Training
Yoga For Depression
Yoga For Flexibility
Yoga For Men
Yoga Nidra Sessions
YogaFit