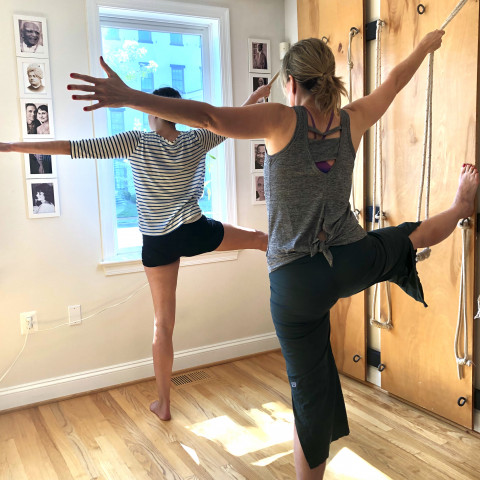 4 year winner, Best Yoga in Alexandria!
532Yoga is the perfect environment for your practice of Yoga; a beautiful award-winning space where we have combined a zen-like eastern minimalism with a reverential, inclusive homage to teachers past and present.
532Yoga is a unique community that has formed from students and teachers, and is a teacher-run studio. Through the art and science of yoga we strive to help all those who study here feel good in their bodies, quiet their mind, and reclaim their peace.
We believe that yoga is for every body. With regular practice you can expect to increase your strength, flexibility and balance, but even more importantly, have fun!
Specialties
100Hr Personal Practice Program
200hr RYT Program
300hr Advanced Training
Ashtanga Yoga
Beginner's Yoga
Breathwork And Relaxation
Candle Light Yoga
Certified Yoga Teacher
CEUs
Chakra Balancing
Chanting
Family Yoga
Gentle / Chair Yoga for Seniors
Gentle & Restorative Yoga Therapy
Gift Shop
Group Classes
Guided Meditation Classes
Hatha Yoga
Health & Wellness
Kundalini Classes
Meditative Asana
Mentorships
Mindfulness
On-locaiton Corporate Wellness Events & Programs
Partner Yoga
PersonalIzed Classes
Power Yoga
Pranayama Yoga
Relaxation and Vitality
Stress & Anxiety Relief
Teen Yoga Classes & Camps
Traditional Hatha Yoga Studio
Vinyasa Yoga Classes
Women's Health
Yin Yoga
Yoga Alliance Registered Teacher(s)
Yoga Books, Clothing & Equipment for Sale
Yoga for Core & Strength Training
Yoga For Flexibility
Yoga Nidra Sessions
Yoga Teacher Training
Yoga Workshops