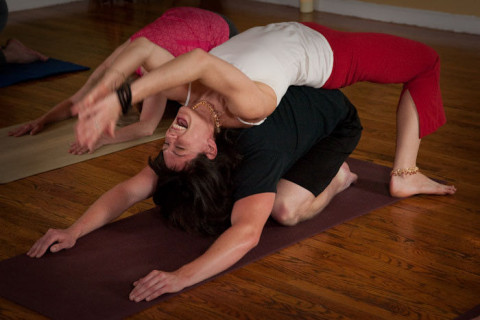 Stacey Coffey, Prana Persuader & studio owner
A Registered Experienced Yoga Teacher (E-RYT) and Reiki Master, Stacey is currently completing her 500 certification with Shiva Rea. She has well over 500 hours in training from studies with Jonny Kest, Paul Grilley, Daniel Orlansky and the amazing teachers at Kripalu. Through overcoming major injuries and healing wounds of body, mind and spirit, Stacey has merged these great rivers of yoga styles and healing modalities. As a result, her teaching style has evolved to one of great inspiration, liberation and fun. Bringing healing not only to the body, but to the mind and spirit as well.
"I know the pain of body and mind. I suffered with debilitating injuries, self sabotage and great sadness. What I found through my struggle was self confidence, compassion and yoga. Let me hold your hand, or foot, through your great journey of liberation.
Specialties
Ashtanga Yoga
Bikram Hot Yoga
Chair Yoga
Chakra Balancing
Children's Yoga
Energy Medicine
Gentle & Restorative Yoga Therapy
Guided Meditation Classes
Health & Wellness
Kripalu Yoga
Meridian Yoga
Power Yoga
Prana Vinyasa Flow
Pranayama Yoga
Reiki Certification
Reiki Healing Sessions
Relaxation and Vitality
Stress & Anxiety Relief
Tantra
Teen Yoga Classes & Camps
Traditional Hatha Yoga Studio
Vinyasa Yoga Classes
Women's Health
Yin Yoga
Yoga Alliance Registered Teacher(s)
Yoga Books, Clothing & Equipment for Sale
Yoga for Core & Strength Training
Yoga Nidra Sessions
Yoga Teacher Training
Yoga Workshops