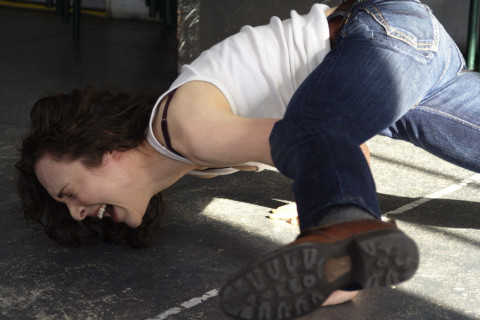 Private Yoga Sessions with Darcy:
The reason I have always loved yoga is that it is never about how good you are. I think that is something people can misinterpret with all the fancy photos of backbending people out there in leotards. For every person who brings their head all the way to the floor behind them, I am more impressed by the people who take a rest, in touch with their bodies enough to know that, today at least, that pose is not for them. Yoga to me is all about getting in touch with what's true, letting go of what you don't need (anxieties, worries, stress) building up what you do (strength, passion). Watch your body change, watch your sense of yourself, in your life, become more centered and whole. All in a place that feels oceans away from crowded subway cars and garbage trucks and city streets…your mat.
Darcy has been practicing yoga for the last eleven years. She grew up in New York, and is an actress and writer as well as a teacher. She has studied across the city in all different forms of yoga, including power, hatha, and vinyasa flow. Darcy is interested in sharing with her students yoga's power to both strengthen the body and open the emotions. She is certified through NYC's Sonic Yoga.
Please call or email for appointments or with any questions. Private and small group classes available.
Specialties
Children's Yoga
Exercise And/or Relaxation
Gentle & Restorative Yoga Therapy
Guided Meditation Classes
Health & Wellness
Partner Yoga
Power Yoga
Relaxation and Vitality
Small Group
Stress & Anxiety Relief
Traditional Hatha Yoga Studio
Vinyasa Yoga Classes
Women's Health
Yin Yoga