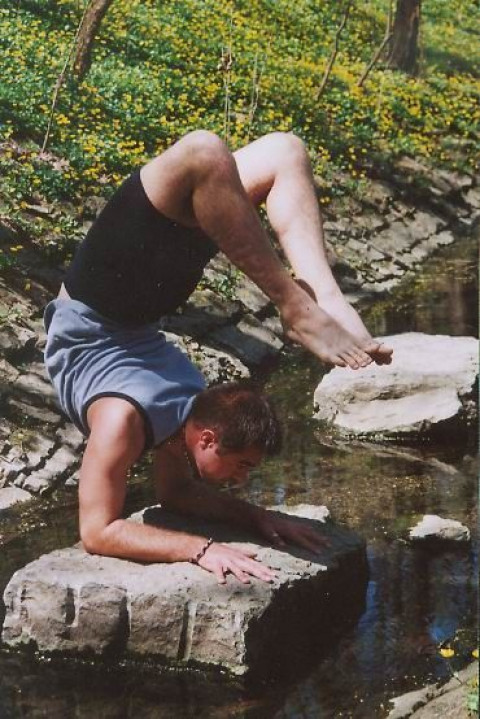 Matt discovered yoga at age 14 while dealing with severe depression and anxiety. He began training extensively in Iyengar Yoga under Judi Rice and Rodney Yee along with assisting at Rodney's workshops. Matt has also trained with senior Iyengar teachers Patricia Walden, Manouso Manos, Mary Dunn, Janet McLeod, and B.K.S. Iyengar himself. After several years immersed in the Iyengar Yoga method, Matt stumbled upon Anusara Yoga and began his study and teacher training of the method with Sianna Sherman, Mitchel Bleier, Shalini Latour, and founder John Friend himself. Matt then became an "Anusara Inspired" teacher.
After many years of studying and training in both Iyengar and Anusara Yoga, Matt followed his intuition and evolved his practice and teaching into his own style. Encapsulating all his training and experience, Matt now teaches his own interpretation of yoga. His teaching is rooted in the biomechanics of the body, universal movement and alignment principles, as well as implementing spiritual teachings from various traditions. Matt's classes are woven together with humor, concise explainations, spiritual teachings, and options for each student's present level of ability while creating a safe, welcoming atmosphere where everyone is deeply honored and respected.
In addition to creating practice manuals, CDs, DVDs, and podcasts, Matt was featured in Yoga Journal's 2002 February issue as a "Teen Yoga Influencer" and in Christy Brock's DVD "Yoga 4 Teens". Matt continues to deepen his experience of yoga by studying with Judith Lasater and teachers he finds inspiring such as Barbara Benagh, Erich Schiffmann, Donna Farhi, and Shiva Rea.
Currently, Matt teaches weekly public classes and conducts local and regional workshops. Matt holds degrees in Psychology and Sociology from the University of Louisville and is pursuing a master's degree in social work/marriage and family therapy. He resides in his hometown of Louisville, Kentucky with his partner and his dog, Chakra.
Specialties
Anusara Yoga
Health & Wellness
Interdisciplinary Yoga
Prana Vinyasa Flow
Pranayama Yoga
Relaxation and Vitality
Stress & Anxiety Relief
Traditional Hatha Yoga Studio
Vinyasa Yoga Classes
Yoga for Core & Strength Training
Yoga Workshops