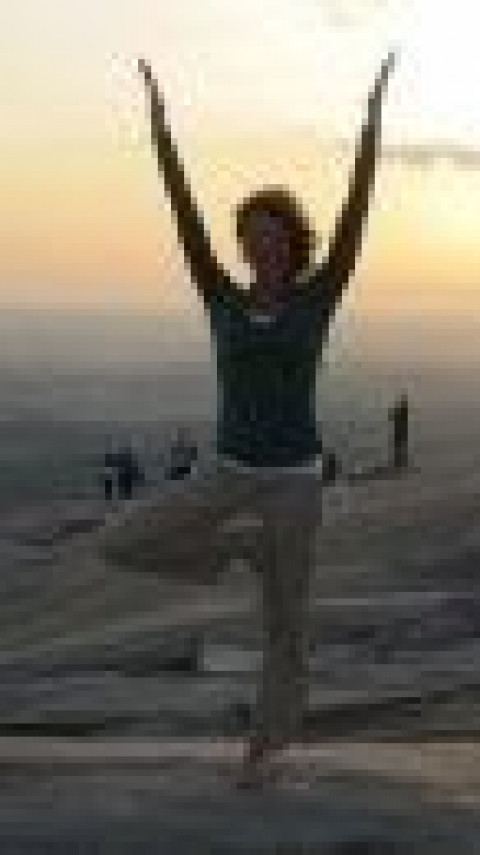 Elizabeth is the wife of a combat veteran/US Marine (ret) and the mother of five children.
Her belief in the healing power of yoga inspired her to become a yoga instructor.
Elizabeth studied yoga, pranayama, and meditation at the Peachtree Yoga Center in Atlanta. She is registered nationally through the Yoga Alliance at the 200-hour professional level. Elizabeth is a certified Yoga Warriors instructor, trained to work with war veterans diagnosed with Combat and Operational Stress Reaction (COSR) and Post Traumatic Stress Disorder (PTSD).
Recently, she co-created a mobile yoga studio business, "Just Loosen Up Yoga," with a friend and fellow yoga instructor.
Somewhere along the line, Elizabeth came up with the crazy notion that the people who really needed yoga weren't the ones showing up at trendy studios with $80 mats.
So, with her Prius packed full of mats & blankets, blocks & candles, and a boom box, Elizabeth provides quality yoga in a variety of locations throughout the Newnan area.
She currently teaches yoga at the Summit Family YMCA, Wesley Woods (a continuing care retirement community), Lake Redwine, Arbor Springs, county libraries, and church basements.
Elizabeth teaches all ages and ability levels.
Through yoga, she helps all of her students create more space in their lives for breath, balance, fitness and flexibility. Her classes are filled with music, poetry, and lots of hands-on support.
Specialties
Candle Light Yoga
Children's Yoga
Family Yoga
Gentle / Chair Yoga for Seniors
Gentle & Restorative Yoga Therapy
Interdisciplinary Yoga
Meditative Asana
On-locaiton Corporate Wellness Events & Programs
Partner Yoga
Postpartum Yoga
Prana Vinyasa Flow
Pranayama Yoga
Prenatal Yoga Classes
Relaxation and Vitality
Stress & Anxiety Relief
Teen Yoga Classes & Camps
Traditional Hatha Yoga Studio
Vinyasa Yoga Classes
Women's Health
Yin Yoga
Yoga Alliance Registered Teacher(s)
Yoga Hikes