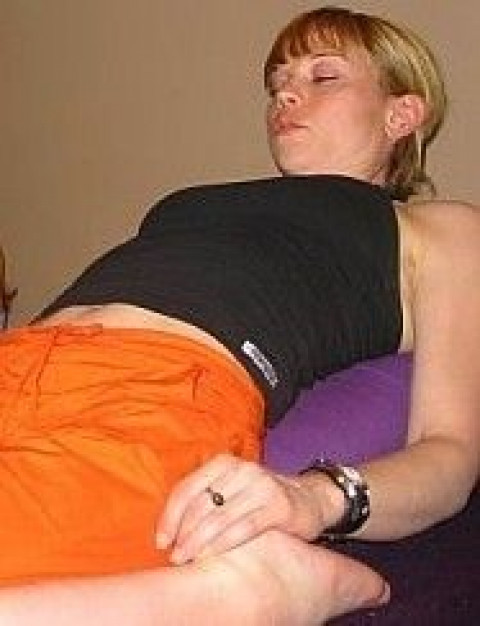 I came to my practice with over ten years of professional experience in Dance, Drama, and Fine Arts. As a Dance Major at Hofstra University, I was also a student of Anatomy & Physiology, Human Biology, and Kinesiology.
The Stella Adler Conservatory provided an education in Theater, whose studies included Alexander Technique, vocal techniques and breathing exercises designed to warm up and fine tune the performing artist's instrument – the entire body.
As a natural progression from these studies, I discovered my practice of Yoga, with the guidance of Iyengar instructor, Norma Colon, founder of Yorkville Yoga.
My teacher training and certification at New York Yoga, with Nixa De Bellis, Michael Gilbert, Carl Horowitz, Kristin Leal, and Gina Menza, led to my dedication to the practice of Yoga as a way of life and an approach to health and well-being of the body, mind, and spirit.
As a practitioner of Prenatal Yoga during my first pregnancy, I discovered, first hand, its applications and benefits to pregnancy, motherhood, and physical rehabilitation. I studied and became certified in Prenatal Yoga. I am now the mother of two young boys and enjoy teaching yoga to expectant moms. In addition to my specialization in Prenatal Yoga, I teach all forms of Vinyasa Yoga with an Iyengar focus on alignment, particularly, in Restorative and Gentle applications.
I expanded my focus to include all forms of what I came to see as "Functional Yoga" or Yoga practiced for health, fitness, self-esteem, and healing, as opposed to Yoga practice that is driven by the desire to achieve certain poses. These functional approaches include Restorative, Rehabilitative, Gentle, Therapeutic, and, particularly, Chair Yoga or Yoga specifically designed for Seniors with compromised mobility. I find the greatest challenge and inspiration from adapting Yoga poses for the specific needs of the student.