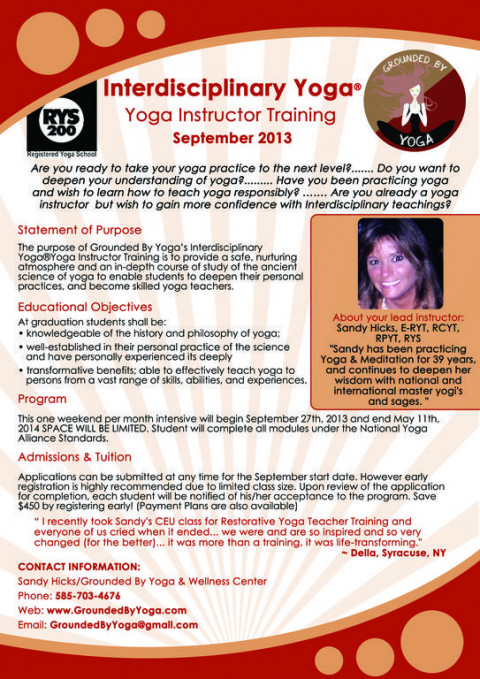 Grounded By Yoga strives to get you in touch with your true and authentic self by working towards aligning the body, mind and soul via traditional and authentic Yoga.
Sandy Hicks, Director and lead instructor has over 40 years experience with a multitude of traditions.
All of our teachers are professionally trained, warm-hearted and friendly
By embracing all Yoga traditions, we have the ability to teach to all students in a way that best works for them
Registered with the yoga Alliance to teach:
CHILDREN, TEENS, ADULTS, SENIORS
Our new space is tranquil,non-judgmental in a non-competitive environment.
Drop in anytime......Adult classes are drop in as u feel! No commitment!
Affordable classes with a "give back" program!
If you would like to stay personally informed of events and new things happening at our studio, please sign up for our Newsletter at GroundedByYoga.com
NOW ENROLLING
Beginner Yoga Students
Grounded By Yoga and Wellness added a 2100 sq ft brand new studio on the East Side of Bloomfield - Corner of Route 444 and North Rd (County Rd 30)
We are nestled in the Back! Parking surrounds the whole building - sometimes I (we) park in the back - but no worries - we are open!
6 Minutes from Route 96 and 10 minutes from Main St Canandaigua
We offer a variety of events, and workshops (infants to adults), Tai Chi, Pranayama,QiGong Workshops and Meditation classes per week a well as the Host of the Finger Lakes Natural Living Fair
Also : Visit our wellness spa downstairs! www.LotusGroveWellness.com :Massage, Acupuncture, Reiki, and several other Healing modalities. Join our warm , caring and friendly family.
For GPS and MapQuest...Use 4 East Main St Bloomfield 14469
Canandaigua: See our listing for our 2nd studio in Canandaigua!
Grounded by Yoga offers Finger Lakes yoga classes for both adults and children. Yoga will not only increase your flexibility but help decrease body pain, balance your mood, and lead to feelings of peacefulness in a safe, non-judgmental place to release stress and unite your mind and body. For more information regarding any of our classes, please visit our website or call .
Specialties
Acupuncture Therapy
Anusara Yoga
Ashtanga Yoga
Bikram Hot Yoga
Breathwork And Relaxation
Candle Light Yoga
Certified Yoga Teacher
Chair Yoga
Chakra Balancing
Chakra Classes
Chakra Energy Yoga Therapy
Chanting
Children's Yoga
Community Service
Corporate And Private Off Site Classes
Couples Yoga
Craniosacral Therapy
Family Yoga
Gentle / Chair Yoga for Seniors
Gentle & Restorative Yoga Therapy
Gift Shop
Guided Meditation Classes
Health & Wellness
Heart Centered
Hot Vinyasa Flow
Interdisciplinary Yoga
Kripalu Yoga
Kundalini Classes
Meditative Asana
Mindfulness
Nia
On-locaiton Corporate Wellness Events & Programs
Partner Yoga
PersonalIzed Classes
Pilates Classes
Plus-size Yoga
Power Yoga
Prana Vinyasa Flow
Pranayama Yoga
Prenatal Yoga Classes
Raja Yoga
Reiki Certification
Reiki Healing Sessions
Relaxation and Vitality
Restorative Yoga
Stress & Anxiety Relief
Teen Yoga Classes & Camps
Therapuetic Yoga
Traditional Hatha Yoga Studio
Vinyasa And Power
Vinyasa Yoga Classes
Visiting Instructor Workshops
Weight Loss
Women's Health
Yin Yoga
Yoga Alliance Registered Teacher(s)
Yoga Books, Clothing & Equipment for Sale
Yoga for Core & Strength Training
Yoga For Depression
Yoga For Flexibility
Yoga For Men
Yoga Hikes
Yoga Nidra Sessions
Yoga Parties
Yoga Retreats
Yoga Teacher Training
Yoga Workshops