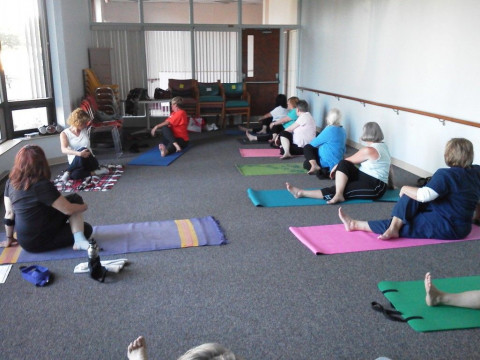 During the COVID-19 Pandemic my classes have moved online via Zoom. Zoom classes are M/W@10:30 AM, F@11 AM, M/TH@6 PM (all EST). Please email me at karenlee@madogmusic.com for an invitation and instructions on how to take the classes.
Summer of 2021: Beach Yoga classes (in person) at Huron Lake Front Park every Tuesday and Thursday at 10 AM through Sept. Buy a 10 class card for $50 and renew as needed. No expiration date. Cards will be good in Fall/Winter/Spring evening classes at the Boat Basin, or can be used next summer. These classes are sponsored by Huron Parks & Rec.
Calm Your Mind! Relax Your Body! Invigorate Your Spirit! In this Gentle Hatha Yoga class you will learn asanas (poses) that will increase your muscle strength and flexibility, and improve your balance and core strength. You'll learn to deal with stress through use of pranayama (proper breathing techniques) and savasana with guided meditation. Come and learn to slow life down and find your inner calm. No previous yoga experience required, suitable for all levels. There is nothing to fear since we won't be doing headstands, handstands or arm balances, but we will be moving up and down off the floor. Bring a yoga mat or blanket, dress in comfortable clothing and refrain from eating 2 hours prior to class. Arrive 15 minutes early to your first class. Punch cards are available at $75/15 Classes, $50/10 Classes, $32/5 classes.
Specialties
Aromatherapy
Beach Yoga
Beginner's Yoga
Breathwork And Relaxation
Energy Work
Essential Oils
Friendly-Environment
Gentle / Chair Yoga for Seniors
Gentle & Restorative Yoga Therapy
Gentle Flow Sequence
Group Classes
Hatha Yoga
Health & Wellness
Meditation
Mindfulness
Music
Offering DoTERRA Essential Oils
PersonalIzed Classes
Postpartum Yoga
Reiki Certification
Relaxation and Vitality
Stress & Anxiety Relief
Yoga
Yoga for Core & Strength Training
Yoga For Flexibility
Yoga For Men
Yoga Introduction
Yoga Nidra Sessions
Yoga Parties
YogaFit