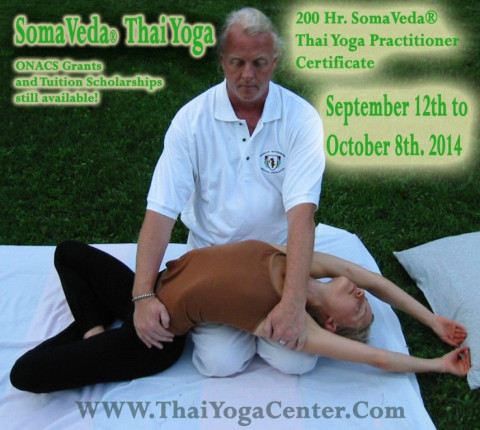 SomaVeda® 164 hour Thai Yoga Certified Practitioner Program: CTP1
Learn Thai Yoga. Go To The Source!
SomaVeda® Thai Yoga is an elegant and sophisticated form of spiritual and scientifically based Ayurveda, Yoga Therapy and Natural Medicine.
This 164 hr./ 17 day, approximately two week program, will cover all four levels of the Basic Professional Thai Yoga Certification Program plus fifteen additional breakout and/or supplemental courses.
No Previous experience required.
Included:
SomaVeda® Level I: Fundamentals Training: 18 hours
SomaVeda® Level 2: Ayurvedic Thai Yoga Training: 64 hours
SomaVeda® Level 4: Advanced Training: Ayurveda of Thailand, SomaVeda® Ayurveda and Yoga Therapy Theory
SomaVeda® Level 5: Training: Clinical Applications and Development of specific programs for Clients based on Ayurvedic Assessments and Guidelines.
(See www.ThaiYogaCenter.Com website for complete description of all included courses)
With our NAIC Ministerial Program, Graduates are eligible to practice legally in all 50 states and may be eligible for both Vocational and or Clerical Medical Licensing!
Next Start Dates for Thai Yoga Practitioner Certification Classes: (Not including Thailand Sacred Sites Program)
1) March 8th, 2019 (CTP)
2) April 4th. 2019 (Thailand Program)
2) May 3rd, 2019 (CTP)
3) July 12th, 2019 (CTP)
4) June 12th, 2015 (CTP)
5) September 6th. 2019
6) November 8th. 2019
7) December 12th. 2019 (Thailand Program)
How Much does it cost?
FULL and REDUCED TUITION GRANTS/ SCHOLARSHIPS AVAILABLE!
If finances are an issue in attending we recommend that you apply for one of our generous Tuition Grant/ Scholarship Programs.
Start your new SomaVeda® Ayurveda, Thai Yoga practice the day after graduation!
No Massage or Massage Therapy License Required! We teach Legal Guidelines and Legal Marketing Practices in every class!
This 164 hour/ 17 day intensive program is the original Thai Yoga Therapy certification first brought to the US in 1983. Designed and supervised by Dr. Anthony James, an Aachan, Master Teacher of Thai Yoga, Doctor of Ayurveda, Doctor of Natural Medicine, Doctor of Clerical Medicine and Naturopathy, Native American Indigenous Church (NAIC) Medicine Person. Anthony B. James authored the very first English book on Thai Yoga in 1983! (Traditional Thai Medical Massage, Meta Journal Press). Expert Staff Teachers Khuu McAuley, Khruu James and staff will be assisting.
We are the original and oldest running certification program in Thai Yoga in the US! Learn how SomaVeda® Thai Yoga can enhance your life, your practice, your clients and your livelihood and income today!
Since we are offering the best program, with the most content and recognition possible and liberal scholarships there is no reason to go any where else!
Call or Email Today!
NAIC SomaVeda College of Natural Medicine: Thai Yoga Center programs are Florida State DOE, FSMBT & NCBTMB, AADP, AAPNA Approved for College Degree, Ayurveda and Massage and Massage Therapy Continuing Education.
SCNM: Thai Yoga Center is a ministry and seminary of the Native American Indigenous Church an IRS 508 (c) 1 (A) compliant FBO/ Tribal Organization/ Not for Profit.
Specialties
Acupuncture Therapy
Aromatherapy
Ayurveda
Ayurveda Health Counselor
Ayurveda Lifestyle Consultant
Ayurveda Wellness Practitioner
Ayurvedic Health Services
Ayurvedic Massage
Breathwork And Relaxation
Certified Yoga Teacher
Chair Yoga
Chakra Balancing
Chakra Classes
Chakra Energy Yoga Therapy
Chakra Yoga
Chanting
Christian Yoga Classes
Community Service
Comprehesive Introductory Yoga
Confidence Building
Couples Yoga
Crystal Energy Work
Deep Healing Relaxation
Energy Healing
Energy Medicine
Energy Work
Essential Oils
Facials
Family Yoga
Finding Your Practice..
Foot Reflexology
Friendly-Environment
Gentle & Restorative Yoga Therapy
Group Classes
Guided Meditation Classes
Hatha Yoga
Health & Wellness
Heart Centered
Holistic Health Coaching
Holistic Health Counselor Training
Interdisciplinary Yoga
Kundalini Classes
Marma Therapy & Body Work
Massage Therapy
Meditative Asana
Mindfulness
Native American Medicine and Yoga Therapy Integration
Natural Medicine
Naturopathy
Nutrition
Partner Yoga
Personal Training Available
PersonalIzed Classes
Postpartum Yoga
Prana Vinyasa Flow
Pranayama Yoga
Prenatal Yoga Classes
PTSD
Reiki Certification
Reiki Healing Sessions
Relaxation and Vitality
Restorative Yoga
Retreats
Shiatsu Bodywork
SomaVeda Thai Massage
Stress & Anxiety Relief
Tantra
Thai Yoga Bodywork
Thai Yoga School
Therapeutic Yoga
Therapuetic Yoga
Traditional Hatha Yoga Studio
Vinyasa Yoga Classes
Visiting Instructor Workshops
Yoga Books, Clothing & Equipment for Sale
Yoga For Athletes
Yoga For Depression
Yoga For Flexibility
Yoga For Men
Yoga Hikes
Yoga Introduction
Yoga Retreats
Yoga Teacher Training
Yoga Therapist
Yoga Therapy
Yoga Workshops